Top 10 Org Chart Platforms
A company's Org Chart is often created, prepared and updated by HR. Since they keep track of all the employees, they possess important information about each one of them. As you can imagine, this is a challenging task to complete.
Org chart software allows users to create organizational charts of all employees within a company. These tools are designed to improve internal communications within an organization by increasing employee awareness. Even the biggest and most complex organizations can keep track of who belongs where. Today's software makes it easy to understand responsibilities and coordinate activities.
But where do you even begin with so many org chart tools to choose from? There are numerous alternatives to consider. In this blog, We'll help you cut through the noise and find the best software for your needs.
1. Gemini
Gemini is a next generation platform that brings all your people data and leaders together. Simply connect your HRIS, and it will create beautiful, always up-to-date org charts giving you a real time picture of your organization. Gemini unlocks the power of your people data to create the best version of your organization through Powerful Org Charts and People Planning.
Main Features:
Rich People Profiles: Rich people profiles help you find the right people in every circumstance. Gemini also displays employees on a global map or in a detailed directory.
Integrations: Gemini provides a quick time to value and integrate with your existing financial, HRIS, and payroll systems– many times obviating the need for expensive upgrades or platform migrations.
Scenario Planning: Create a sandbox for scenario planning, experiment with organization changes and see the financial impact in real-time. You can quickly create new positions, move managers, move an entire team from one manager to another or move employees to a bench for future consideration – the possibilities are endless!
2. LucidChart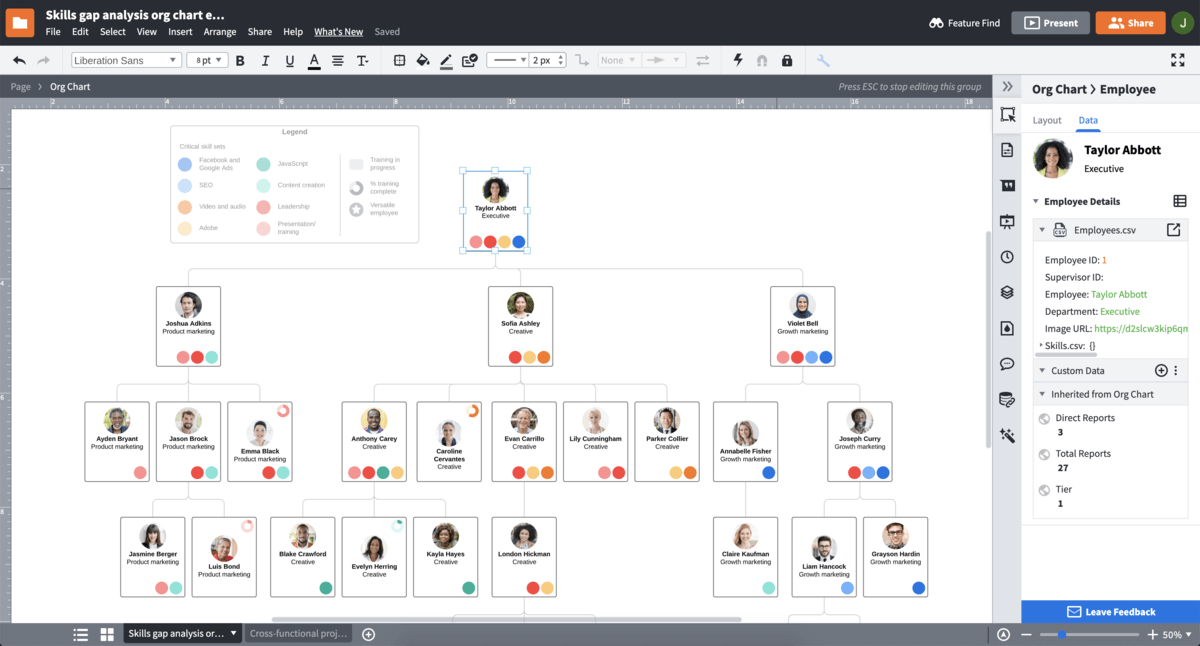 Lucidchart is a cloud-based visual workspace tool that allows you to do much more than just create your own organizational chart. It can assist in the creation of flowcharts, wireframes, diagrams, and mindmaps, among other things.
With Lucidchart you can quickly build org charts from scratch, start with one of their templates, or simply import your employee data. Lucidchart makes it easy to collaborate, visualize, and update employee information.
Main Features:
Templates: Users can start from scratch or use a range of predefined templates to begin building their org chart.
Diagraming features: Diagram your processes and people for optimum communication of complex ideas.
Intuitive interface: The cloud-based platform makes diagramming painless, no matter the operating system, device, or browser.
3. Freshteam
Freshteam is the smart HR software for growing businesses. Freshteam makes it easy to create clear org charts. You can attract, hire and onboard new hires, offboard exiting employees, manage employee information, and time off – all in one place.
The software also enables the HR team to onboard new hires even before day one – whether it's getting forms filled, documents signed, or handing out handbooks, Freshteam can do it in a few clicks.
Main Features:
Onboard Faster: Save up to 90% of time for onboarding by automating communication, document sharing, and more.
Automate repetitive tasks: Define automation rules for every job, by creating conditions & workflow rules that make hiring simple & less manual.
Recruitment Reporting: Freshteam creates reports to answer every important recruitment question your team has about candidates, interviews, time-to-hire, cost-by-source, and more.
4. ChartHop
ChartHop pulls all your people data into one place, creating a single, real-time picture that everyone can access to make better decisions. Visualize your current situation, envision future scenarios and act on your insights.
Without the use of spreadsheets or PowerPoint slides, Charthop allows organizations to better communicate everyone's role, show who is joining or leaving the company, and manage the complete org chart.
Main Features:
Historical versions: Charthop also enables you to store changes so that in the future you can look back to see past versions of the org chart.
Visualize: The tool generates automatic visibility for departmental costs, employees by location, gender, diversity in management, and other areas of interest.
Compensation Management: Track total compensation for each employee in a single place.
5. Pingboard
With 32,000 different organization chart templates to choose from, Pingboard can cater for any org structure, helping those in large companies to see where anyone fits in. So, whatever your organizational structure is, Pingboard can help you map it out in a logical way.
Pingboard helps businesses create a culture of connection for their employees beginning with org charts, automated onboarding, and communication tools. It allows users to create a full employee directory with information such as positions, job roles, birthdays, interests, and contact information.
Main Features:
360 degrees view of connections: Quickly identify who reports to who and how your organization fits together.
Announce open roles: Let your people know about opportunities to advance or find a better fit within your company and increase applications from internal candidates.
Automatic updates: Someone joined the organization, changed their name, or moved up the ladder? Pingboard will update their details automatically.
6. Creately
Creately is a powerful yet easy to use diagramming application that works right in your browser. With its built-in collaboration and commenting features, Creately makes working with your team or clients an absolute breeze.
Your professional diagrams are only a few clicks away with this tool. While Creately is cloud-based, it can also be used offline!
Main Features:
Define Organizational Processes: Create multi-level processes, map to business capabilities, annotate with attachments and docs.
Manage KPIs and OKRs: Define organizational, team and individual OKRs with defined links. Visualize performance at individual, team and division level.
Run Recruitment Workflows: Track candidates and progress with Kanban boards. Attach data, assessment feedback and personal notes.
7. Visio
Whether you want to quickly capture a flowchart that you brainstormed on a whiteboard, or map an IT network or build an organizational chart, Visio makes it simple to do so.
Visio isn't geared directly toward org charts, but does offer them as part of a larger flowcharting solution. Its inbuilt integration with MS products really shines here. You can simply highlight the fields in an Excel workbook, and turn it into an org chart. Likewise, you can create charts straight from MS Active Directories as well.
Main Features:
Visual collaboration for teams everywhere: Visio in Microsoft 365 is available to Microsoft 365 commercial subscribers, so you can create professional diagrams anytime, anywhere, with anyone.
Integrates with Business Intelligence, provides data, insights and analytics
Org charts: Easily craft org charts to visualize team, hierarchy, or reporting structures, and then share them with employees, teams, and stakeholders.
8. Smartdraw
Smardraw is similar to Lucidchart, Visio and Creately. It does a lot more than just create organizational charts. However, because it is one of the oldest products on the market, it not only has more features, but the overall product is much more refined.
Main Features:
Variety: you can create more than 70 types of diagrams—including flowcharts, org charts, hierarchy charts, UML diagrams, ERDS, network diagrams, floor plans and more in minutes.
Easy to share: Share your org chart with anyone, even if they don't own a copy of SmartDraw, with a link. You can also easily export your org chart template as a PDF or common image formats like PNG or SVG.
Largest library of charting templates and symbols, CAD-like drawing abilities, custom SDK, excellent collaboration ability.
9. Organimi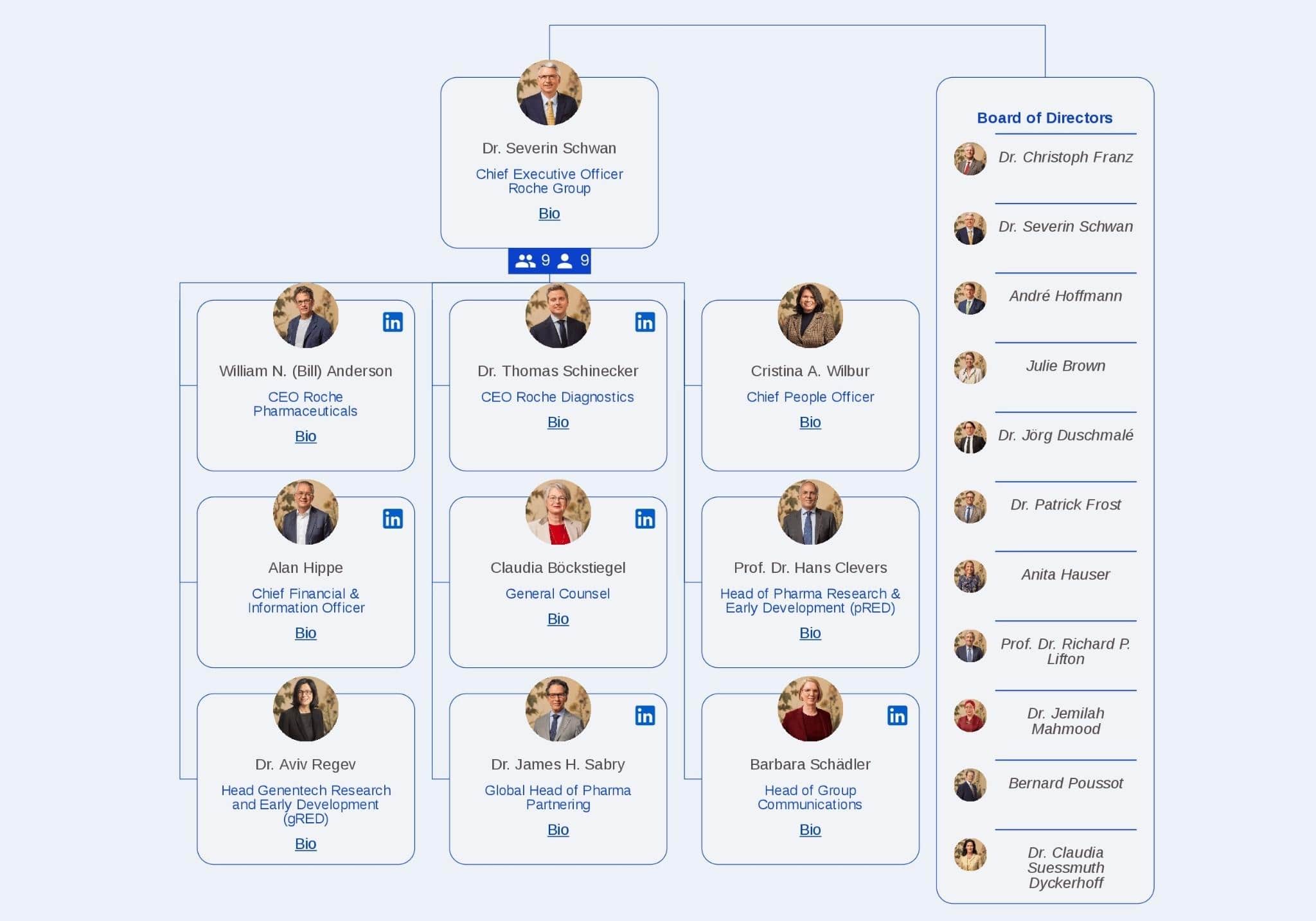 Organimi is the modern day, cloud-based organizational chart software. The platform gives businesses of all sizes access to charting software to assist with organizational design, sales and account planning, consulting, operations and more.
Org charts, photoboards, directories, Organimi's got it all. Whether you're looking for a traditional hierarchical org chart suitable for your growing organization or a matrix chart for your project teams.
Main Features:
Create in minutes: Users can create an organization chart for companies automatically through a CSV import, and charts can also be customized to suit your liking
Keep everyone in the loop: Share your org charts privately with select individuals or company wide in one click. Give users editing or viewing rights
Great design: The software has a bigger emphasis on artistic design over other options, which is clearly evident in the number of color and shape options that it provides.
10. Gliffy
Gliffy is one of the best cheap org chart software platforms. Its diagramming applications make it easy to communicate and collaborate at the speed of your ideas. Whether you're using Gliffy in Confluence and Jira or jumping into our standalone diagramming tool, Gliffy Online, you'll find an intuitive way to draw diagrams.
Main Features:
Integrations: Gliffy integrates with Atlassian marketplace, Google Drive, Confluence, Trello, JIRA, and other applications.
Price: For starters, it is one of the most affordable options. If you don't want to spend a lot of money on managing an org-chart tool, then Gliffy might interest you.
Diagram with ease: Use strong themes or templates to bring your concept to life. Shapes can also be dragged and dropped.
Don't know where to start?
Whether it's a startup with 20-50 employees or a large corporation with over 3000 employees, organizational structure allows managers to effectively manage their employees at all times. Simultaneously, org charts facilitates to increase visibility across the entire organization.
By being aware of your company's needs, you may find it easier to choose the org chart software that best suits you. We totally understand that trying 10 software options can be a little annoying, but there's no better place to begging your org chart journey than at the top of this list —with Gemini. You can request a free Demo and let us show you how Gemini can help you design the best version of your organization.